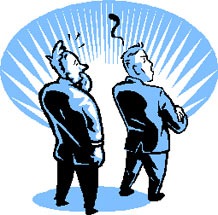 Some interesting things just happened in the last few days, Google got very serious about Google+ and has started requiring Google users to enable Google+ integration. Now add to the mix Google's new addition of Google+ Communities!I would definitely keep an eye on Communities, from my perspective. For some businesses, creating a Google+ Community for their business may allow more interaction with users than the typical Google+ Business page. For now, Google+ Communities look like a great option for merchants or brands with a strong following and not yet for the typical small to medium sized business owner. To see some examples take a look at this very interesting article on Google+ Communities from Website Magazine.
Google+ Communities are not like Facebook Groups, nor are they like a Google+ Business page. They are a hybrid and much more interactive than a Google+ Business page. First, you can invite people to join your +Community versus hoping someone will discover your Business page. Second, you can do video hangouts and others can post to your wall, share +1's with other community members, post and hold events, and easily share content. Also typically, a Google+ Community page will have a moderator and a higher degree of interaction than would a typical Google+ Business page.
Think of your Google+ Business page like your business card or brochure and your Google+ Community like a free and wide ranging forum. The real power, from my point of view, comes into play with the ability of Communities to share +1 activity in the Google.com personalized search results. For those owning Communities that is a very, very powerful tool and may be the next big thrust for SEO and web visibility to be leveraged in 2013.