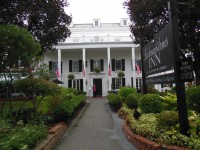 I have just returned from a fall leaf trip in New York along the Hudson River valley. The leaf colors were beautiful and the area is a wonderful place to visit. While on travel, I stayed at two bed and breakfasts and had a chance to chat with two innkeepers about their business promotion. Here's a few things I learned and a few things I'd like to share with their community.
1. Social Media is a Must Do.
If you are running a bed and breakfast, you've just got to bite the bullet and be active on social media. Particularly this means Facebook for you. You should be posting pics of happy guests, group shots, snaps of the food you serve in the morning and pics of places guests can visit when they stay with you.
2. TripAdvisor Can Make or Break Your Business.
If you are not watching TripAdvisor daily, you'd better be making that a website to check daily. Make sure your listing is up-to-date, that you have good quality images of your inn, and that you respond to reviews in a professional way. Make sure to ask your guests to write a review for TripAdvisor. We actually chose the bed and breakfasts we stayed at based on the reviews on TripAdvisor. One had over 200 reviews and had set a personal goal to get 300 in a month.
3. Blogging Can Be Good for Your Business.
Sounds like just one more thing to do that you don't have time for when you run a busy inn, right? Think again, blogging can be very, very good for your business. As you will act as a concierge when your guests come to stay with you, you'd better be showing you know the area and are the local expert on food, places to visit, and things to do. Blogging is a great way to show your expertise as well as to beef up the content on your website for Google and Bing. Plus these posts will provide value when people visit your website from TripAdvisor.
Come by and visit on Wednesday for the rest of my promotion tips.