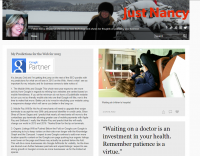 When I drive a long distance with my high school senior kids in the car, it gives me time to ask what is trending and is hot with their friends. I've found that what happens with their generation is a very good indicator as to where businesses should be looking to build for the future. Temper that with a review with my older kid who is 25 and I get a great viewpoint of how businesses should be embracing certain new technologies and avoiding other ones that may be becoming passé.
In my most recent drive Tumblr came up several times with my kids, so I checked it out. You can view my own Tumblr page here at http://nancymccord.tumblr.com/. I call mine "Just Nancy" as it is a place for now for me to share just about anything.
This is what I have found using Tumblr and why you may want to consider using it.
1. It is actually incredibly simple to set up and actually fun to use.
2. It has a very nice smartphone integration that allows you to post photos, quick quotes, and just about anything on the go.
3. The desktop interface is cool, user-intuitive, and the smartphone app simple.
4. I love the ability to add multi-media and text simply.
5. It feels like there will be a more visual and different demographic on this platform and so may be a more energized platform than a blog for a business.
6. From my own initial testing to me this seems like this may be the place where you can merge all your online enterprises into one cohesive message.
It remains to be seen how I will use Tumblr for business, but for now, I am having plenty of fun checking it out.