Prospects hate to hear this, but for multi-state and multi-national selling businesses, placing organically is almost "mission impossible".
Here's Why Google is Making It So Hard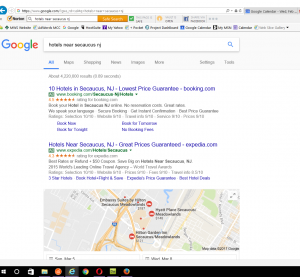 With the expansion of AdWords ads at the top of the Google.com search page and top ads showing site links, callouts, snippets and other valuable deep links to your site, AND Google placing location specific results from Google Maps just under the four AdWords ads in many cases, organic listings have been pushed so low they are not seen.
As AdWords increases relevance with new extensions, readers no longer feel that they have to look at organic listings. Click activity is increasing at the top of the page and decisions by buyers are made before they even scroll to the bottom of the page to see organic results.
Add to that the fact that with personal history in your search results top organic placement is a target that you cannot consistently hit across a wide sector of viewers.
A business can no longer rely on organic activity to drive meaningful sales. AdWords has become the new visibility tool and the way to move your website listing to the top to get the attention you need to drive sales.
I invite you to visit our website to read more about our AdWords services and compare our low prices with other Google Partners.