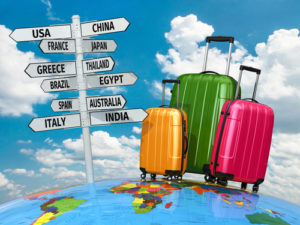 Travel, it's fun and exciting, but the trouble with travel is that internet and phone connectivity can bring your business to a halt fast!
Here's How I Handle the Trouble with Travel
Be prepared.
Stay powered up with portable power packs.
Make sure you have a mobile phone Travel Pass.
Review connectivity in your destinations.
Be prepared to pay for Internet access at hotels.
Get your files into the cloud for easy access.
Have an answering service or staff for backup.
Don't take on any work that has deadlines close to your trip.
Take a tablet and a smartphone. No need for a laptop.
Create a customer care plan in your absence.
I have personally found that US travel is easier for me than international travel, but with the right tools and expectations, international travel can also be managed easily enough.
Internet connectivity does allow me to work anywhere in the world, but all Internet connections and data networks are NOT equal. I try to keep things I really need to be connected to for an hour each night at the hotel purchasing hi-speed Internet access. I use data for quick responses to emails with my smartphone through out the day.
The more you travel, the better you get at managing what you can do and what you'd better defer to your return home.
If you have your own travel tips you live by, share them by clicking comments.