Microsoft Advertising Management
Microsoft Advertising management services from trusted a trusted Microsoft Advertising Search Professional —it's the experience and qualification that makes the difference.
Set Up, Management, Optimization
Microsoft Advertising Search Professionals's are monitored by Bing to meet certain qualifications, but it is our depth of experience in diverse business sectors that is what truly makes us different from others.
McCord Web Services has created a unique business-friendly series of programs to help you get started with Microsoft Advertising fast and with the professional support when you need it.
When you select us as your account manager, we work hard to provide the results you desire, treat you fairly, and are good stewards of your advertising budget while billing our fees on an hourly basis or at a low flat rate.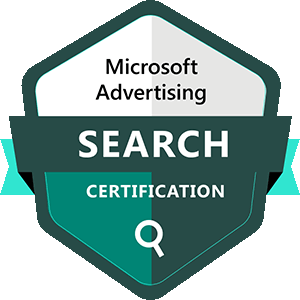 Microsoft Advertising management is a core business for us. Please contact us for special pricing for high ad spend accounts. We can handle large and small accounts with low management fees that boost your return on investment. As a point of comparison, our fees will typically be below 10% of your ad spend for high dollar accounts.
McCord Web Services employees are certified with Bing Ads through the Microsoft Advertising certification program.
Nancy McCord, our Microsoft Advertising account manager, has studied numerous hours in different content areas. She has passed Bing's rigorous exam many times and managed numerous client accounts in diverse business sectors.
She has been a Microsoft Advertising Search Certified Professionals for more than ten years and has expert knowledge with the Microsoft Advertising platform.
Our team re-certifies with Microsoft Advertising yearly. We are expertly proficient in use of Microsoft Advertising tools, and are customer satisfaction-focused. We invite you to read the comments and ratings that our firm has received from our clients.
Verifiy Nancy McCord's certification. Verify Christopher Harper's certification.
Why McCord Web Services?
There are several reasons why you should use our services over others.
1. You save even more when you compare our services to other managers that charge 5-10% of your Microsoft Advertising ad spend.
2. As Microsoft Advertising Search Certified Professionals, we are examined by Bing. Many other services do not carry this credential and so may not be up to date on advanced Microsoft Advertising tools and campaign management strategies.
3. We think that once you talk to our expert, Nancy McCord, you'll understand that it is her depth of experience, knowledge, experience in generating leads for clients, and passion for Microsoft Advertising is what sets us apart from other services.