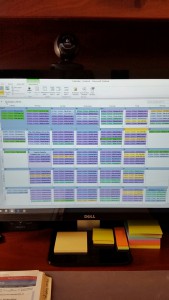 Oh how I love all things digital. I love having a smartphone to connect on the go. I love collaborating with my assistant using Microsoft's OneDrive, I love to share things with my writers in Google Drive, I love Outlook, and I love the Google Calendar. But at some point in time you have to decide who will "own" you.
My conundrum is that I love Windows 10's Cortana. I want to use her as my personal assistant more and more, but she does not interface with my Outlook email application. Cortana adds any appointments I ask her to make to my online OneDrive calendar and not my Outlook desktop calendar.
Google's online calendar on the other hand, does not connect readily or easily with Outlook. Oh sure, you can let Google get its hooks into your entire business process with Google Apps and get syncing into Outlook, or you can buy Companion Link which acts as a bridge between your Google Calendar and Outlook. Which is what I did, but now I am having an increased problem with duplicate appointments appearing now in both calendars when I sync.
Oh how I want to streamline things, yet stay uber connected – my way and without all the privacy issues connecting to Google brings. I want the best of Google and the best of Microsoft all rolled into one super connected platform that connects with my desktop, Android tablet, and Android phone as well as my laptop all together (but just my calendar for now).
For the next 30 days I will try to calendar all my appointments solely in Google and then the next month solely in OneDrive. I'll let you know how it goes the good bad and the ugly. So today, my test starts! Welcome to the world of Google!