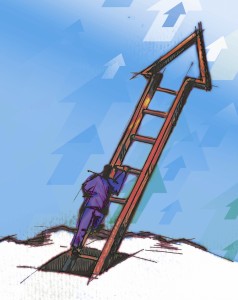 "What to do, what to do… update LinkedIn or Facebook? Yikes, I haven't even looked at my MySpace site in a month." The busy professional has a hard time finding time to keep social networking sites up-to-date and they really only work for you when you are actively "working the network".
This is why I recommend selecting just one social networking site and then sticking with it. For my age group and profession the social networking site of choice is LinkedIn. Most of my clients are there and this is the site that I get the most requests from to add new friends.
College kids and the younger professionals are using Facebook a lot and nearly no one is using MySpace anymore, unless you are a band. The ebb and flow of the popularity of social networking sites makes it hard to choose one and stick with it.
The reason I like LinkedIn is that the set up time was quick and that I do not have to invest a lot of time in maintaining or updating the site. Social networking is not for everyone and some people will simply have more time than others to manage their sites. Others will see no benefit to investing even a millisecond on sites like LinkedIn or Facebook. For me, this is why I like Twitter so much. Twitter is part blog and part social network. Although there isn't the friend interaction on Twitter, unless you have social friends there, the ability to see what is happening with others in your field in regards to sites they are watching, new information they feel is important, and the speed in which information is shared, is what makes this flavor of social networking popular for the busy professional. Who doesn't have one nanosecond to write 140 words about what they are doing right now"?
You can follow me in Twitter from the Twitter Feed bar just to the right in my blog's sidebar. My Twitter ID is McCordWeb. See you there!