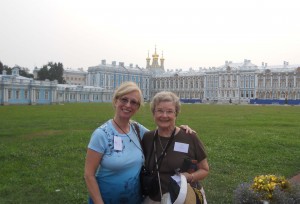 Well I am finally back, cured of jet lag, and ready to go. I loved Russia and the river cruise. The people are very open and friendly and the countryside is beautiful. Fortunately I did not have much trouble with the smoke issue as I left Moscow and headed to St. Petersburg before the smoke was really a problem. However the heat is a totally different story!
I particularly loved St. Petersburg and would definitely go back there to visit. I have to say after having toured a bunch of palaces that I can see why the general population rebelled. The opulent lifestyle of the royal and extended court were unbelievable at the expense of the peasants. I think I might have been on the side of the rebellion as well.
I have inserted one of my photos from the beautiful Katherine's Palace so you can see one of my most favorite places outside of St. Petersburg.
For an easier way to tour Russia than by bus and a new hotel every night, I would recommend a river cruise. My stateroom was like a nice room at the Sheraton. But best of all was the interesting and diverse global company of travelers that made cruising and touring a real delight.