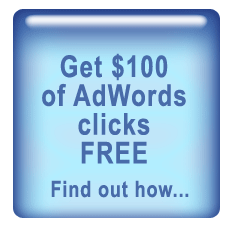 So are coupons right for your business? From my point of view they should be used for just about every business. Prospects love to get something free and clients love little perks. Shoppers may choose your product or service over a competitor just because of a special discount or free shipping offer.
So what kind of coupons should you consider? Here are just a few. When you create one, make sure to list it in your Google Places account as coupons and reviews are just two of the factors that help to boost your Google Places page organic position.
Free analysis
Free shipping on your first order
10% off your first service
Free gift with purchase – could be a pen, coffee cup or promotional item
10% of the purchase of a yearly service plan
Free inspection
Free review of existing coverage
You don't have to break the bank or destroy your own profit margin to have a coupon. In my case, I am offering $100 of clicks on Google AdWords free with the set up of a new account. AdWords gives me many coupons each quarter and I am glad to give them away as I get new business. You may have similar situations with your vendors all you may need to do is to ask.
Are there any businesses where coupons would not work? I can't think of too many, even insurance reps can offer free analysis or a free review of your existing coverage. Don't consider a coupon a way to cheapen what you offer but rather think of a coupon as an incentive for a potential customer to ask more questions and to make contact with you in the first place.