On September 22nd, Facebook announced a broad sweeping change to personal profile. Here's what your profile will look like on September 30th at the new roll out.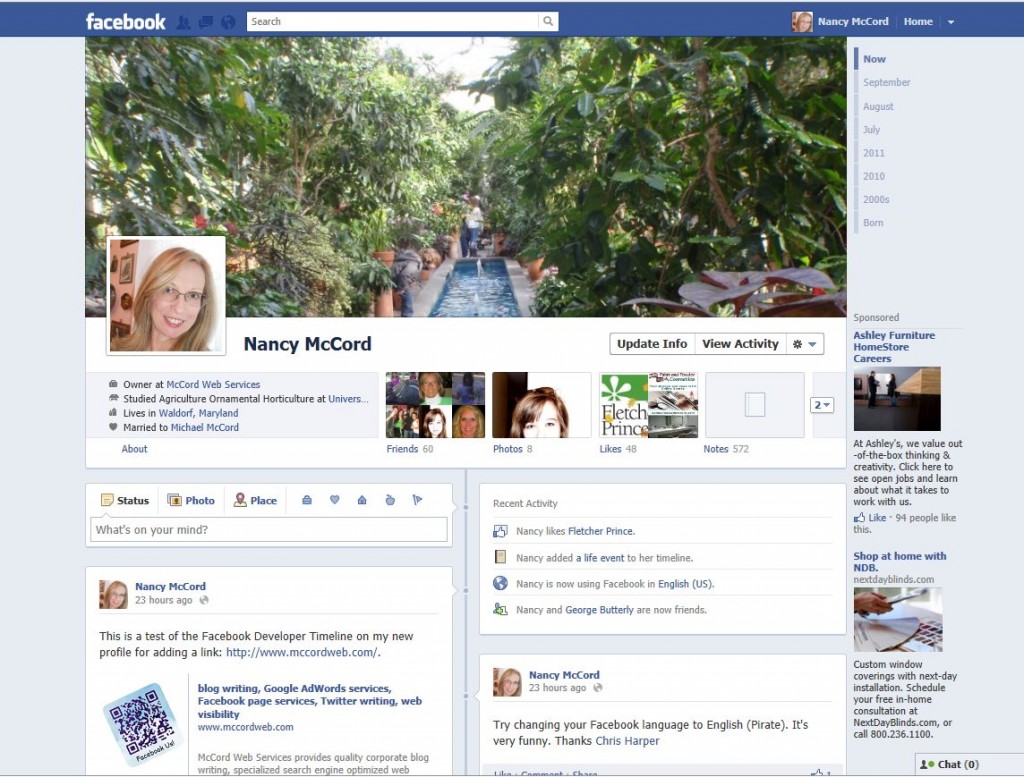 It is cool looking, isn't it? The new profile photo is a thumbnail of you and then a cover photo of your choice. The rest of the profile is very graphic and video oriented as well as offering a timeline of your life in status updates and photos. It is almost a resume of your life. You can only see the new look if you are a Facebook Developer at this point, but on September 30th all profiles will share this same new look. For some of us, this gives us a jump on fixing up our personal profiles ahead of the changeover.
For Facebook Business Pages, Facebook has not said just how much will change, but I would imagine that the cover will also be a big feature. Some of the things we do know is that these items are going away for Business Pages:
The ability to send out email updates to all fans with one click. This important feature for Business Pages will disappear after September 30th.
The ability to feed your blog to your notes page. This feature disappears for both business and personal pages on September 30th as well.
Users will not need to "like" your page anymore to interact with your business content. The value of a "like" will be significantly changed.
It appears that Facebook is really pushing to move Business Pages into Facebook stories or product/service pay per click advertising to get the exposure they need.
As a result of these changes, look for new Facebook Services on our website as we understand what will work for businesses and Facebook.