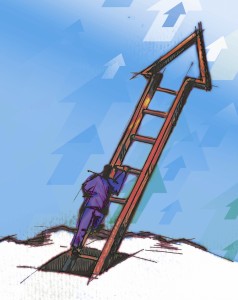 Getting placement on Google.com is affected by a number of new factors so getting Google to "trust" your website, when compared to other sites, is extremely important. This "trust" factor is also known as "web authority". When Google considers your website an authority on a topic, it will place your site higher in the organic search results.
So, how to you get Google to "trust" your website and give it "authority"?
1. Make sure your are transparent about what you sell and your services. Explain what you do and provide informational content about your services or products in a way that does more than just "sell" your own services.
2. Make sure you have a privacy policy that covers tracking, technology, remarketing, what you do with information, and if you lend or sell information to a third part.
3. Get blogging on a regular basis to provide value to readers –  not just about your own services, but about your industry, why something is important, current news in your industry, and share your point of view. I like blogging three days a week as it keeps search engines coming back on a regular basis to find new content.
4. Start now building Google AuthorRank either through the rel=author tag or the rel=publisher tag pointing to Google+ properties. By doing this important step you legitimize your online voice tying your website, blog, off site articles all to your Google verified property. This is a very important step to Google's "trust" factor.
5. Share off domain using social media. I personally like using Twitter, Google+, Google+ Communities, LinkedIn, and Facebook. Make sure the content you create there is share-able and information rich. Don't use social sites just to parrot back sales and marketing content from your website. Work to engage and add value.
Although our own services aren't a good match for every business, we may be a good match for your needs. I invite you to check our our services to see if we might be able to help you to start building "trust" with Google now.