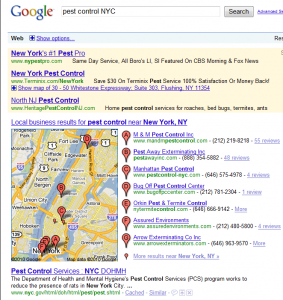 In our series on how to place locally on Google I will be looking at the next easiest scenario which is one business with physical presences/offices in multiple cities. This is also a fairly easy scenario to place locally on and similar in some ways to the actions that you would take for the one business with multiple locations in one city.
Here's what I've found works for location specific placement.
1. See our post from 4-8-14 on how to rank for one city. In this twist of one business multiple cities, again it is best to put all your location addresses in the footer of your website. If you have more than three or four locations, I would do a location page for your website and then just list the city and state names in the footer hyperlinking to your specific location page.
2. Again as in the single city with multiple location pages a unique page for each location is in order linked from the all locations page. What is very important to understand is that the content on these locations pages MUST be unique. You cannot simply copy the one location and then drop in the new location. Try to write something of value about each unique location.
3. Setting up a Google+ Local page for each location is really key for organic placement. Take some time and thought into what you will write and make sure the pictures and videos if you have them (highly recommended) are unique to that location.
4. Make sure you validate your Google+ Local page. A PIN will be hard copied mailed to the physical address. Your staff really, and I mean really, needs to be vigilant to find this PIN envelope. It will look like junk mail and will have NO Google ID on it. I have had many clients have significant delays in validating and have required multiple sends of the validation letter as it is simply missed. Nothing will show on Google until you validate and then typically a two to four week delay after verification to show in the results is not uncommon.
This scenario and the one on Tuesday are fairly simple to enact but very important. With mobile searches being delivered preferentially local content the activity from local searches and local exposure is simply too huge to discount.