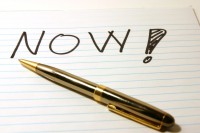 What's the perfect sized blog post? How about a tweet, is 140 characters too much? Who says that a longer Facebook status update is better, is it really? In an article found online at Buffer, I've found what one author says is the perfect length for everything. But are those tips and suggestions right?
Below are personal recommendations on what works best for each platform based on what our own customers and readers seem to like best.
Twitter – what's the perfect tweet length?
Although Twitter only let's you enter in 140 characters including spaces do you ever wish you had more room? Sure but less room? Kevan Lee says the perfect tweet is 100 characters and that these short tweets get 17% more engagement. I have to say that from my experience tweets that are this short typically are teasers for videos, spam, or sharable quotes. Does that mean that you should start shortening your tweets? I say no, but make your tweets work harder by linking or pointing to something meaningful to your audience.
Facebook – what's the perfect length for a status update?
Customers do think that more is better when it comes to paid writing on Facebook, but does more necessarily translate into more engagement? Buffer says the perfect Facebook status update is 40 characters long. Wow, that seems pretty short and hard to really even express what a link in your updates is all about. From my personal experience about 150 to 160 characters seems about best for Facebook. Facebook updates with an image or linking to a page with an image (so Facebook will show a thumbnail) seem to get the most response.
Blogging – what's the perfect length for a blog post?
Buffer says the ideal blog post is 1,600 words. 1,600 words translates into more than three pages of a Word document. When was the last time you read this much content on one website? Unless the article was enriched with data, statistics and unique research from a highly authoritative writer and on a topic that was really important to me or about something I wanted to learn about, I have to say that the chance of having a real audience be engaged from introduction to conclusion would be pretty slim.
Recent studies have been done on how Internet and screen reading have cut the general publics attention span. Internet articles are not read like books or print articles but rather scanned. Have too much content, not enough white space, blocks of content that are more than two sentence long and you risk losing your reading audience.
My customers vote with their pocket books and our top selling blog writing levels are those at 200 to 250 words per blog post followed by 140 to 300 words per post long. I personally like blog posts that are 300 to 350 words long as this is just long enough to flesh out a topic and really have something interesting to say.
So what's your perfect length? Just as a point of reference this post is a little over 500 words long. If it was the supposed "perfect blog post" it would be three times this long!