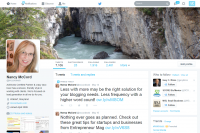 If you have not upgraded your Twitter profile page yet, on May 28th you are getting the new look regardless according to Twitter.
So, what's to like about the new profile?
1. Wow, it is much more interesting to view and moves Twitter from mainly being accessed through third party tools to now a venue of interest. With such visual appeal, I appear to be spending my time here over Facebook!
2. I love the new cover look and the new layout is much more stimulating visually.
3. I like the sidebar showing photos and video thumbnails on the left as well as the top level navigation sorting my updates tweets, replies, cool thumbnails of follower sites, and following sites.
4. I like the option to pin tweets, star favorites (the new way to say thank you for retweeting or mentioning you in a tweet).
5. But for me, mainly it is the navigation and new look of my account that actually makes me want to click into Twitter and not just post through HootSuite. That says a lot right there!
Twitter wants to become a venue just like Facebook where users login to interact, spend more time connecting and viewing updates, and not just send content there through third party apps. If Twitter can get you on the page, they can more effectively serve ads and build revenue.
The layout is slick, clean, uncluttered, and very eye appealing.
You can check out my Twitter site to get a feeling for what's coming for you on the 28th by visiting me here: https://twitter.com/mccordweb.