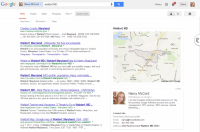 Very quietly Google has changed Google Places to remove the ability to manipulate a listing for organic performance. This action has very quietly slipped under the radar, but the changes are big for businesses.
First, this last month, Google sent out notices to all Google+ Local businesses that duplicate listings of the same business would not be allowed. Google immediately disable access to all Google+ Local pages (also known as Google Maps pages and Google Places accounts) to email addresses that did not carry the business domain or were not recognized by Google as clearly being the account owner by email, or having the business phone number or carrying the registered address. This effectively locked out all third party account managers and update services.
Google then advised all account access users that the main account owner – not even the originator of the account, would have to allow access to any users from the parent account. Additionally that any approved users would then have to manage the account for two full weeks before transfer of the account could be done.
By making the linking and transfer process so complicated Google has effectively locked our all parties except the one account owner. Of additional important note is that Google has been removing one by one the items a business owner could actually change on their account.
Over time, Google has removed the ability to add keywords and to craft a message that helped the business place locally. Google even removed the ability for a monthly promotion as well as comments from the page owner.
With this most recent update Google has now forced all Places pages now into the format of a true Google+ page. No longer is the look and feel different of a Places page from a postable Google+ Business page but identical and one that you can now post to with a third party app like HootSuite.
These huge changes to who can own and update the page, what the page looks like, and how you interact with the local page have now made Google+ Local pages unable to really be optimized for organic placement. This bad for businesses, but great for Google. Google gets more people forced into Google+ and now nets out manipulation of local results.