I love CoffeCup's Sitemapper and wanted to share my personal unpaid review on this product with you. This is an easy to use and highly configurable application. I routinely use it to rebuild my own Google sitemaps and those for clients. With a low cost of only $39 and the ability to do a free trial, this is one application that every webmaster should have or at least check out.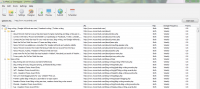 With Sitemapper, you can scan your files two ways, you can scan from a web URL or you can scan your local files. Once set up, you let the application run and it will create a compliant XML site map automatically. But before you even generate the final sitemap, Sitemapper provides a visual file tree allowing you to delete files and file types.
With configurable options such as setting the update frequency for Googlebot and the page priority, I think that you'll find this an excellent application and well worth the small price.
I particularly like the error tracking feature that allows me to know what broken links I have that will generate a 404 page from pages in my sitemap. In fact, I've just finished scanning a 3,500 page site and have about 50 links to review to clean up my new sitemap. It's a great time saving assist!
Although I don't use this feature, you can even connect the application to your Google Webmaster Control Panel for a quick upload. I prefer to review my sitemap personally and then load it to my server root via FTP.
I think that you'll like this nifty application, I find it indispensable for my own personal needs and a real help for my customers especially those with large websites.