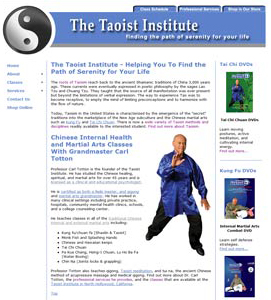 Man, this has been a busy year so far for my firm. I have moved from one large project to another with another already in the queue. In fact just this past week I have launched two custom SEO web design projects – The Taoist Institute and The Core System Store.
Both sites are owned by the same client and are set up as sister sites to each other, using the general design and feel for branding and recognition. The first www.TaoistInstitute.com is the main site and showcases Dr. Carl Totton's services and classes in martial arts. The second site www.OneCoreSystem.com is the store site for the main site. It showcases all of his Tai Chi and Kung Fu training videos and supplies. The second site utilizes PayPal add to cart shopping buttons and facilitates credit card transactions through PayPal for an easy start into e-commerce.
The main site is a huge change from the original website which was done with a template in Network Solutions. The new site contains custom content written by the owner and resident martial arts expert and is built to grow. The site is already getting great feedback from visitors and clients.
Isn't it time for you to consider updating your website too? Check out our custom SEO web design services today.