Just this last week Google announced that it was ready to start penalizing websites that did not offer a good mobile web experience. Here's why:
• Mobile devices have been a driving factor in an increase in time spent online. In fact, since 2010, the time the average individual spends online has doubled.

• 91% of adults in the United States own a phone; 61% of those phones are smart phones.

• In 2012, marketers spent $4.4 billion on mobile advertising in the United States alone. By 2013, that number doubled to $8.5 million. By 2017, the figure is expected to fall around $31.1 billion. Search and PPC advertising accounts for nearly half of this budget.

• 25% of adults in the United States only use a mobile device to access the Internet. PCs have become tools of the past.

• Organic search results matter now more than ever before. In fact, one-third of all search clicks go to the top organic result; this means that the mobile icons Google is testing could play a larger role than you'd imagine going forward. Read the full article online.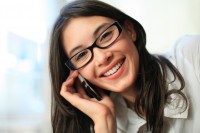 What Google is doing about this important trend is very important. In the search results, Google has been testing aggressively just how it will be notating information about your website. It has tested a variety of icons that are cues to readers that they experience when they click into a particular site will be mobile read friendly since September with testing continuing.
The next step most SEO's feel is coming in the near future is an update in the Google search algorithm to penalize sites that do not offer the "right" experience, from Google's point of view. Remember, Google is all about relevancy. If it stops keeping its eye on that mark, its own share of the market will change.
Already it is predicted, with Facebook's strong growth this quarter in the mobile arena, that Google share will drop below 50% of mobile search activity. So, Google must stay focused on making sure that its search results for the mobile space are the most relevant and easiest to use in the search world for this growing audience of mobile search users. If it does not, it will lose advertising dollars and its place in the marketplace as the top search engine.
If your website does not have a great mobile experience, you may want to consider our mobile and device responsive websites that are strong on content and SEO for your next upgrade.