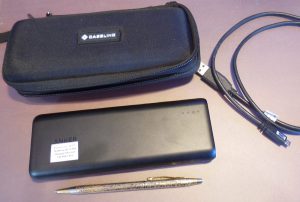 I've just returned from personal travel to India and wanted to share with you a few tips I learned along the way. There's no need to be tethered to a charging station at the airport or miss an important call or suffer from a dead camera battery. Portable power packs are more practical and better than ever at keeping you charged anytime, anywhere!
My husband bought an Anker PowerCore 20000 with Quick Charge 3.0, 20000mAh Power Pack Portable Charger with Qualcomm Quick Charge 3.0, for Samsung and iPhones from Amazon before our trip and it was worth its weight in gold!
This portable power pack fits in my purse and charges two devices at a time and only needs a recharge after several days use. I was able to charge smartphones and even my camera all while on the go. Just make sure that when you travel you put the power pack in your carry on as it should not go into packed luggage.
What I liked most was we were able to use the powered up charger on the go for about 3 or four days straight without having to charge up the power pack up again.  Sometimes at hotels we simply charged with the power pack and not even a wall charger.
I am not being paid for this review, just wanted to share a cool travel tool with you that has really worked for me.