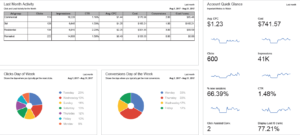 AdWords dashboard reporting will soon be changing my life, and I can't wait. Managing 30+ client accounts is a big job, but the monthly reporting and communication, although important, is very time consuming.
In the Beta New AdWords, customized dashboard reporting is one of the biggest enhancements that will help clients to visually understand what I, as their account manager, think is important to know about  in their AdWords account.
Not only does dashboard reporting make my life easier, but I do feel that this important enhancement will really help clients to gauge what is happening in their account easily, at a glance.
The interface is powerful. I can set up grid tables, pie charts, bar charts, and an account scorecard, that updates every month. Plus, I can download the report and send it on a schedule as a PDF to the client.
This is such a huge improvement for AdWords account managers and for clients that I cannot wait to see it appears in all of my client accounts.