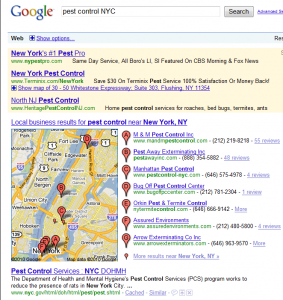 Yes I know, Google My Business is tied to a Google+ Page and no one seems to like Google+, but I have to say that there is a place for Google My Business and the reviews that are done there.
I recently moved to the Fredericksburg area which is in central Virginia. I need all new doctors, a new beauty salon, a new dentist – well new everything! How have I, an experience web marketer found new businesses to trade with and doctors to go to? From Google My Business!
As Google showcases Google My Business listings in the search results preferentially and returns them based on your own location, the results are catered to you personally. Click a result and you do not go to a website, but rather a larger map view with all local listings at the side and a plethora of reviews.
Which listings did I take time to review – those with reviews. Who did I not even bother to look at – anyone with no reviews or those with poor reviews and a low number of stars.
I never even went to any websites but the last two selections I made and then to only get the phone number and check out the faces of people who I would be trading with.
That's the new way Google is forcing us to use their search engine. Clicking into a business website is secondary to getting the information you need fast right from Google AND this is where the Google My Business page is so important, as this is now the landing page before a client even gets to your website.
If you are smart and work the Google system, you will start now by setting up your Google My Business page and then aggressively working to add reviews to that page. Remember, Google is wanting people to stay on THEIR site to serve ads and to not even need to click into your website for information.
If you need savvy solutions to help with your website visibility visit us at McCordWeb.com – there's no SEO "snake oil" here!