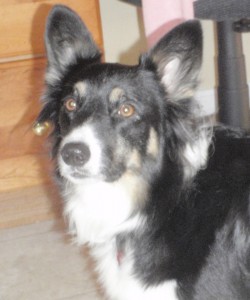 We would like you to meet our spokesdog Keebler. Keebler is the McCord family pet and our new fun way to connect with dog lovers, business colleagues, and people just interested in knowing more about blogging, AdWords, SEO, and social media.
Keebler was adopted on October 2009 as an adult dog from the Northern Virginia Sheltie Rescue. Although Keebler is not a pure bred Sheltie, she had enough of the Sheltie look to qualify for the rescue group to take her in from a shelter. Keebler is actually a Sheltie Corgi mix. She has the Sheltie look with the cute short legs and long body of a Corgi.
These wonderful people at the Northern Virginia Sheltie Rescue find then adopt and foster many needy and older dogs from shelters or direct donation right in their own homes. They are serious about the dogs and look to find the very best adoptive home match for the dog and family.
Keebler had been a street dog and then had been adopted twice by families. She had not been able to get along with other dogs in the family and had been returned for re-placement. The Rescue group loved her, but found her difficult to place until we came along. What we saw was a great dog who needed to be the "queen" of the household and be a part of a high energy family. It has turned out to be an excellent match for us, a one dog family, and for Keebler.
Our spokesdog's best features are her wonderful smile and bubbly personality. Although adopting an adult dog can be a challenge sometimes, our family welcome Keebler to her new forever home with open arms. We fondly say that our dog has a mental illness when it comes to squirrels. She hates them and tries to chase them in the yard, then she will run circles around the kitchen table to work off her anxiety energy until stopped. She could run until she falls from exhaustion if allowed. We have learned that our high energy dog just needs a bit of special loving help when squirrels are in our yard.
There are a few ways you can connect with Keebler. She has her own Facebook page, she has her own Twitter account called AskKeebler, and she regularly interacts to answer questions on the McCord Web Service Facebook Business Page. If you want to join in the fun, ask web visibility questions, see funny videos that are silly yet viral, you need to connect with our spokesdog Keebler, it is all done in fun!
If you want candid answers to your web related business questions, have a light hearted laugh, want to share dog pictures, or ask about how to promote your business on the Web, you need to just Ask Keebler!