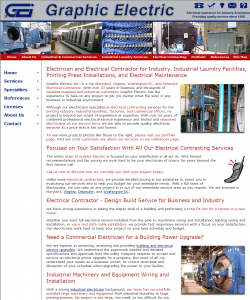 We've just finished this brand new website for Graphic Electric and wanted to share it with you. This site was built for an electrical contractor located in Maryland which serves Maryland, Virginia, Washington DC, and Delaware.
This is their first time on the Web. The business has been providing industrial electrician services since 1986 but just now putting up their first website.
Make sure to check out the Flash slide show on the Industrial Laundry services page as you will see some fabulous before and after shots of the warehouse before and after Graphic Electric has wired and installed all of the laundry equipment. It is very interesting.
This site was built with Dreamweaver's AJAX navigation which is search engine friendly yet gives the look and feel of a typical drop down menu – in this case horizontal slide out menu.
The site has been well optimized and is full of client testimonials and project descriptions. Even if you are not looking for an electrical contractor, we invite you to click in and check out this new website.