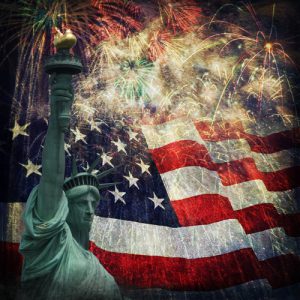 Happy Independence Day!
Not only will you want to celebrate Independence Day and our country' s revolution, but you may want to celebrate independence from the drudgery of doing social media updates with this app – Hootsuite.
I love Hootsuite and recommend it to you to simplify updating your social media sites. (I am not being paid for this recommendation, I am a paid user of the free and pro versions and simply an advocate.)
Here's how you get independence from the drudgery of social media updates yourself.
The Free Version is Great
You can have a number of social media accounts in a free Hootsuite account. Here are some tips to connecting your networks to get going.
First, sign up for the free app use at https://hootsuite.com/plans/free
Second, log in first to all your social media accounts, then go back to Hootsuite and connect each one in by clicking to add social media accounts to your profile.
Third, click the + on the streams page to add the scheduled, your updates, and home page for each social media account. This allows you to easily monitor and update all social media accounts in one control panel.
Fourth, when you write an update, select the social media sites you want your update to appear and on what day and time. With one click you can post to all your sites or post and schedule for future dates and times your updated.
Fifth, create some draft updates and save them to cover you when you are busy and don't have time to create an update. When you save an item as draft, you can only select one social network. To access drafts, update the writing panel, and click the button save to open the draft updates and then select the draft to use. You can then update the social networks to send your draft update to in the scheduling field.
If you want to have more than one user on the Hootsuite account, you will need to move to Pro. Hootsuite is vigorous in policing this policy. If you have logins from different locations, even when you travel, Hootsuite will send verification login codes to assure that two users are not using the personal account.
Today on the Fourth of July, isn't it time you got some independence? Get the Hootsuite free version and start saving time, schedule social media in advance and smartly use prepared drafts to make social media connection fast and easy.
Need more help with social media? Check out our social media writing and management services today.