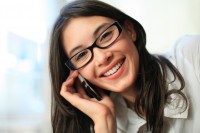 I manage a large number of AdWords accounts for clients in a wide and diverse sector of businesses. In the last two months I have seen very marked trend – that is the importance of mobile for lead conversions.
Of specific note is that for some clients, mobile has become their sole avenue for lead generation. For some, no longer do people take time to complete the contact form on their website, it is all click to call and with nearly all leads coming in via mobile activity.
Specifically, I see this activity on accounts that have a very strong location specificity; such as accounts for doctors, dentists, lawyers, and heating and air conditioning service providers. If the product you sell is relatively expensive, typically the desktop and tablet arena is still where most of your leads will come from, but for many mobile is REALLY ramping up.
What I've found is by installing website call tracking from AdWords on a website, we are getting a fuller view of how clients are using AdWords and how the client is getting lead conversions. I am finding that AdWords is driving a huge amount of call traffic for clients that we previously could not track. With this information, we are also finding out that a call versus an email conversion is now your consumers action preference.
I find that the way people use AdWords, perform research, and how leads are now generated has changed, and significantly so. Make sure that your website and your AdWords account is set up properly to take advantage of this strong emerging trend that is mobile driven. This is the future for AdWords not just a short term trend.
If you need a savvy AdWords account manager, who just also happens to be a Google Partner to help you ramp up your conversion activity, you'll want to look over our service offerings today.