Welcome to The player's view of Fiesta Online!
Fiesta Online? What is that?
    This is what you might be wondering; and I am going to tell you. It is a game that once you start playing for a while, it becomes addictive and soon, every spare time you have, it's spent playing on this game. The graphics are very good, with the characters being very detailed. Oh, By the way, the characters are manga, and so they don't look like real people, but cartoon-ish instead.
    The game also has a store that (using real money) you can buy spark cash, the game's form of money; that can be used to buy cool items that your character can equip. Example:  A premium Beauty Shop Coupon. This can be used to change your character's appearance. It can change gender, hair color, style, and the structure of their face. All for 3600,i think. That is a little over $5.00, which in spark cash is 3500. Although, most of the items only last for a week or a month. Then they disappear. Although, the new appearance of your character does not change after you have used the coupon. The creators of Fiesta are coming out with permanent items that cost about a lot more, but you can keep them forever. Great, huh?
    In Fiesta, you can gain titles, like the one I have on the game, which is 'Announcer'. That title I got through talking on a certain chat for a while. There are other cool titles like 'Talk Show Host', 'Enhancement God' and 'Warrior'.  Right now, my characters are a level 44 Wizmage named Teeta, in guild Cupcake_Cult, and my level 37 Highcleric named Royia, the ex-master of Eternal_Flower, and now a proud admin of Swift_Legion. I have other characters on my server, which is Epith, but those are the ones that I play on the most. The other servers are: Bijou, Apoline, and Teva.
    You can also go up levels by killing monsters, like for level 1's, it can be slimes and mushrooms. Another way to go up levels is to do quests. Or you can have a high level help you with them, and go up levels faster. That is called 'p-leveling'. That is where you are power leveled by a higher level where that person helps you with quests or takes you to a higher place where you get more experience. You need a certain amount of experience to go up a level.  Once you go up a level, you are faced with new quests, new titles, and new armor which you can buy with copper. 100 copper equals 1 silver and 100 silver equals 1 gold. And so on.
    There are also guilds. In one, you can be a member, a guard, an admin, a council, or even the master; if you created or were given that guild. It costs a lot though to make a guild. 300 silver. Tip: you can not buy gem, gold, silver, or copper like you can with spark cash. You have to make it yourselves. You can do that by selling the items that monsters drop when you defeat them.
    Right now, the highest level possible is 89; soon to be 105, i think. Oh! Once you become level 20, you have to take a challenge to receive a title. If you do not defeat this quest, which is where you must defeat a copy of yourself that has about 8000 health while you have only about 1000. Once you defeat him/her, you go up a rank. You go from a level 20 (cleric, fighter, mage, or archer. One of your choice.) to a level 20 (Highcleric, Cleverfighter, Hawkarcher, or Wizmage). Notice: once you start as a certain character, you can not change it's class.
    There is a big map of Isya, which is the land where your character this game is placed in. There are 4 towns. Roumen: a beginner's town. Mostly for levels under 20. Small and simple. Elderine: a level 20-60 town. It is luxuriously big and has a lot of people. Sand Hill: holds the same items and stores as Eldy, just has different monsters and look to it. Uruga: The high level town, only accessed by scrolls or traveling through level 60 places. I would show you a map of Isya, but currently I cannot find any. Everyone all over the world can play Fiesta Online.
Go to this website if you want to download it or if maybe your child does! 🙂 
If you are in the  US, Canada, or Mexico; scroll down to the right side of the screen and click on the link labeled: For US, Canada, or Mexico users.
Or, If you want to see my page and ask me about it, go to this website.
http://www.outspark.com/profile/?sparkid=seriena
P.S. ~ I hope this doesn't sound like advertising! *laughs* 🙂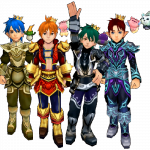 <–People from Fiesta Online
This post was written by my 12 year old daughter who has spent the day with me on Visit Your Parents At Work Day today.