Google just rolled out their newest algorithm update this past week and already I am hearing from colleagues that they are seeing their sites drop. Rollout finished on May 22nd with Matt Cutts from Google announcing the update in process on his Twitter account last Wednesday. Additionally Cutts asks for crowdsourcing to identify sites that the algorithm update may have missed.
Cutts states, "If there are spam sites that you'd like to report after Penguin, we made a special spam report form at http://bit.ly/penguinspamreport . Tell us about spam sites you see and we'll check it out."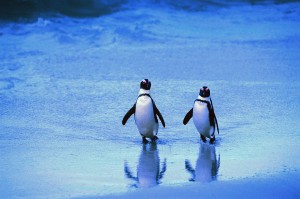 Matt Cutts, Google's lead spam engineer, has stated that about 2.3% of all American searches will be impacted and some measurably that users will notice a difference. Not only were American website affected, globally Penguin 2.0 was rolled out impacting search positions really across the board.
So Who Exactly Gets Impacted?
There is no clear cut answer here, but the Penguin update is about inbound links and spammy links. Sites that have been involved in link building using link exchanges, article marketing, blog and forum posting, potentially guest blogging, the purchase of links, created multiple websites for the purpose of cross link building, and have had the same anchor text repeatedly in inbound links will most certainly be penalized.
It appears that Google is setting up a filter, when a site hits a unknown number of questionable links based on Google's own parameters, then the site is penalized in the Google.com search results by a significant drop in placement. What is most concerning to professional webmasters is that out of the sites that were initially hit by the very first penguin update articles site statistics stating that only 6% of the impacted sites have recovered placement. That is pretty serious news.
Here is my short list of things that you should not do at this time as Penguin Preventive.
If you have employed an SEO firm to build links for you – stop them now!
Review your link numbers in the Google Webmaster control panel, check to see if you have any notifications of spammy link practices from Google.
Stop article marketing and any guest blogging you are doing except on authoritative websites and blogs.
If you have been buying links – stop now! Disavow those links in the Google Webmaster Control panel.
If you have been doing article spinning – stop now! Disavow any of those links in the Google Webmaster Control panel.
If you are participating in any link share programs stop now and remove any code or links from the site.
If you have built website solely to build a link empire – now I am not talking about one or two website that feature different aspects of your business, but rather a number of sites simply built with thin content to cross link to each other – take them down now!
Got any other tips of what to do for our readers? Just click comments and leave your top tip to share. Don't let your website be Penguin fodder by letting poor linking practices drag you under.