With link building right now being a big no-no while the Penguin 2.0 shakedown continues this week, the big question is where should you invest your time to improve your organic placement?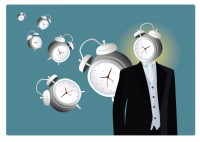 Here are my top tips and suggestions and where I invest my own time in regards to inbound marketing.
I blog. I cannot underestimate the value of blogging. It has been a marked key to my own personal success online and one we highly recommend to clients. Not just drivel for your blog, but insightful information-rich content and a perspective that differentiates you from others.

I write periodically for two large authority sites – SiteProNews and the Bing Ads global forum. I don't waste time writting other places and will typically give these sites a 2 week exclusive on my content and then reuse the content for my newsletter. I don't spin my articles or widely distribute them. Additionally I require that my Google+ author link be included in my bio so I personally get AuthorRank juice.
I tweet. I have moved down in frequency from 5 per day to at least 3 and occasionally more.
I Facebook but only once a day typically.
I work my Google+ Community daily. I own AdWords Strategies and find the interaction of my peers interesting. I have used my ownership and moderation of this community to really boost my Google+ Circles.
These are the top areas that I invest my own personal time for my own business to get a pay off. You may have other areas you use, why don't you leave a comment and let me and my readers know where you invest your time.