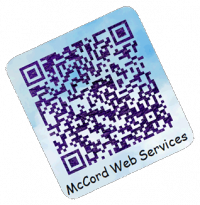 Now that you has seen QR Codes or Quick Response Codes on brochures and even store price cards how can you use them too? Here are a few of my suggestions.
Add a QR Code to Your Print Brochures
Add a QR Code to your print brochure, you can send your user to your home page or better yet send them to a custom created landing page that has a special offer to allow you to actually measure the results of your exposure from a trade show, speaking engagement or direct mail piece.
Offer Special Coupon Codes and Promotions
Want to track smartphone users? As most desktop users are not using QR Code scanners, you can encode special offers as a text snippet and even embed a special coupon code in a QR Code that can then be used immediately by smartphone users.
Encourage FourSquare and Google+ Local Reviews
By embedding your QR Code on your menu or guest check, restaurants can encourage visitors to interact immediately with location specific places to share their favorite spots with others and encourage visitors to even leave service reviews.
Print a QR Code on the back of your business card
With the ability to embed a vCard in your QR Code, you can make it easy for smartphone users to add your contact information to their phone and if they are syncing to Outlook will appear there too.
How do you think you will use a QR Code? Just click comments and let me know your suggestion too.