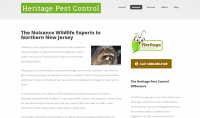 Just this past week I have launched one of our client websites completed in our Quick Launch responsive design styles. Heritage Pest Control is the newest customer to move from one of our old custom websites done about four years ago to a new responsive layout. You can check out the new site at www.HeritagePestControlNJ.com.
Here are some of the comments we are hearing from clients as they move to HTML 5 and responsive website designs:
1. The site has a very clean look – very different than my old site that had sidebars and all types of links and features right and left.
2. I love how the site re-sizes to fill the screen of my smart phone AND my tablet.
3. I like my mobile site using the new responsive design much better than my DudaMobile site that was auto-created from my old custom design.
4. I really like how my images in my content resize when I look at my site in my smartphone or tablet – how did you do that?
5. The load time of my site is fast and I am already getting feedback from customers that they love my new look.
If your website is older than four years, it is time to consider upgrading your website to HTML 5 and new technology. Starting at $1,850 these special responsive websites give you top quality unique content, design and integration completed by an SEO expert, and fast implementation or transition of your old content and site to a new look.
Find out more by visiting our responsive website design page.