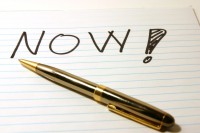 OMG I love this calendar scheduling application. A prospect asked me to schedule a call with him this last week using Calendly. I thought it was such a cool online productivity tool that I jumped right in to use it for my own business.
First, it is important to know that Calendly is not paying me for this blog post. I have just started using it and really like it so far. For me, I schedule between 6 to 10 conference calls a week. Some of my clients have Outlook and I can do meeting invitations and others don't. Sometimes I am stood up for my call and sometimes I have to chase a client around for a few days to either pin them down or hook up with them by phone.
Calendly looks like it is going to solve most of my problems. Here's specifically what I like:
1. No more "What's your time zone again?" or "Was our call Eastern or Pacific?" Calendly talks to your customer/prospect in their time zone. You enter information in yours and Calendly translates it to theirs. – Excellent!
2. You can set up all types of calls 15 minute, 30 minute, and 60 minutes are defaults in the Premium Level, but the free will just have 15 minutes or one custom sized call. I like 20 minutes for my calls but have some clients that need 30 minutes. I have full control of setting the appointment time. – Excellent again!
3. Reminders are sent to you and the client and you decide the frequency. I set mine up for 24 hours, 2 hours, and 30 minutes out. I am hoping that this will help my conference call attendees be on time and minimize being stood up on my call. – Loved this option.
4. It integrates with my Google Calendar which I sync to my desktop and all devices either with Google or with Companion Link for Outlook. Now here's my tip. Outlook typically will take your appointments or things you put in your calendar and mark your time as busy. I found that on set up I had not times available as I have many repeating work appointments in my calendar. I opened them and set them as "free" availability – I did this in Outlook and double checked in my Google Calendar, and now I have tons of spots for clients to select from. – This is one of the best features!
5. With Calendly I feel that I am providing better customer service. Instead of me choosing a conference call time that works for me, I am letting my client be in the driver seat. I've even opened up evenings for chats as with my conference calling capability I can be on the road myself and call in for a conference call while on the go.
I am still trying to decide if I want to stay with the free level or upgrade to the Premium level, but so far I consider Calendly a real find and wanted to encourage you to check it out too if you live on your phone and calendar like I do.