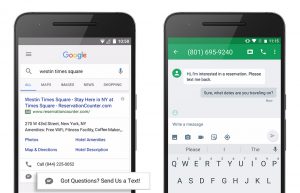 Click to Message ad extensions were enabled in all AdWords accounts this past week.  Since then, many clients have had questions about this new extension.
What to Know About Click to Message
First this new feature is an extension. That means that it will not always appear under or above your AdWords ad text. Google will choose when to show this extension and only when your bid is high enough, the quality score good, and it is relevant to your user.
One big key is that as this is a text message, you will never see it on your desktop, but rather your smartphone and possible tablet.
The other question from clients is will I see the texts, can I set auto responders. First off, the click interacts with the users phone and own texting app. So you have to input into the extension a phone number that can receive texts. You will not see texts in the AdWords interface but rather your phone.
We can auto populate a message that auto fills the persons screen who has clicked to text you so that you know what service or product they are asking about, but the extension does not allow for more robust features like auto responders.
For more detailed information on Click to Message, please visit the Google AdWords announcement page.
If you need help with AdWords, as a Google Partner, McCord Web Services would be glad to help you. Visit our AdWords Account Management page for more information.