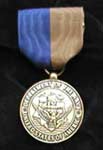 That's right I am a recipient of the Meritorious Public Service Award. It was designated by Vice Admiral P.M. Balisle, Commander of Naval Sea Systems Command and presented by Rear Admiral Paul V. Shebalin, Deputy Commander for Mobilization for NAVSEA and SPAWAR in 2004.
I received this special award for a website I built for the Engineering Duty Officer's Reserve group, of which my husband had been a part of at that time. The 500 page website was full of information to help reservists know more about projects, where to stay in Washington when they traveled on duty and a place to share documents.
As the Admiral gave me the medal he also read:
"Your contributions to the command in shaping communications that are focused on the mission, goals and products of NAVSEA and the NRED Community are a credit to your professionalism and skill in software development and web page design. Thank you and congratulations on a job Well Done!"
You can read the full release on this page.
My family is a military family and my husband is now a retired Navy Captain. The military has been good to our family and we continue to benefit from our connection to the military community. We love our country and our military.
I mention my Meritorious Public Service Award to let you know my business model and life are managed to the highest level of personal integrity and honesty. If you are looking for a professional to help you with AdWords or your website, my firm and I, myself, will treat you right. Find out more today about our Internet Marketing Services.