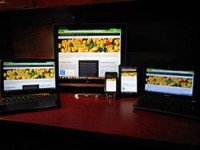 If you are waited to update your website to be mobile-friendly and your traffic and business is crashing, know that Google means business in regards to transitioning to a mobile-focused world of search.
Over the last three months I have seen a huge shift even in AdWords conversions and for many clients all activity is now click to call from mobile devices. If you missed the boat and did not update your website to be mobile friendly by this week, here are a few quick things you can do to remediate that problem.
Some sites that you may want to check out if you are a do it yourselfer are:
DudaMobile – has mobile friendly as well as responsive designs.
WIX – just be careful of the design as not all are really responsive.
Shopify – has some nice designs to consider.
Webflow – is even a consideration.
Of course if you want greater control over your design and content, or simply do not have enough time to do this yourself, we have a very nice turnkey program for responsive websites for you to check out and try out online. Just let us know your interested and we'll send you a link to over 50 super nice responsive starting points for your customized website.