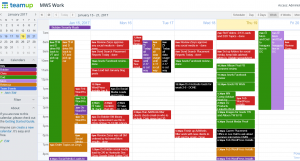 TeamUp is an online group calendaring tool that I found and am now using heavily for my 6 person content creation team.  My team works remotely. We share files via Google Drive and had tried using a joint Google Calendar, but that just never seemed to have caught on with my team.
So, before I went on vacation I started looking for an easy to use, user-friendly online calendaring app to keep my team on track.
First, I do want to say that I am not being paid by team up or receive any consideration from them, I am simply a user turned advocate.
In fact I am using the free version right now although they do have a premium version and I am carefully scoping it out.
Here's what I like and why you may want to consider using TeamUp too.
Easy to set up
I was calendaring tasks for my team in less than 10 minutes and the application was intuitive. I did not even have to read the documentation, although they do have nice videos and startup guides.
Color Coded
Each team member has their own color. I can see at a glance who has tasks to do and each team member can click their own color and see only their tasks in the group calendar.
SmartPhone App
My team has Apple phones and I have an Android one. Whatever I selected to try had to have an app available for iPhone and Android. TeamUp's app in Android looks prettier. The Apple version looks more like a daily agenda list.
Come back Wednesday January 25th to read the rest of my review.