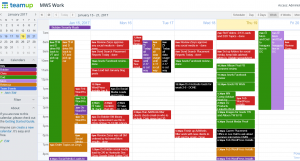 My uncompensated review is continued from Monday.
I have trained my team that when they complete one of the tasks that at the end they add -DONE. I have to say this has made my life much easier and has streamlined management for my social media manager.  When you are working with many remote employees who each work when they have time, you need to know when something is DONE.
Sorting
I really like the option to show TeamUp calendar by day, three days, week or month. I typically use the day and three day.
Emailing Updates
I have set my team members up to receive calendared events that have changed. I also get an email at the beginning of the day with each event that has been updated. I encourage my team to drag items they don't finish for a day to the day they will do it on. Allowing me to identify if I have a problem with deadline slippage or team members who may need additional intervention.
Repeat Events
This is a brand new feature that suddenly got turned on in my account last week and I have to say I am now using it all the time. I can now take and event and repeat it on my schedule – certain days, certain days of the week or even monthly. This has helped me move from user to advocate.
I have to say that TeamUp is a problem solver for my team management issues and allows my manager to know what deadlines are met and not without time consuming double checks. For me, while on travel, I can know what is happening with my team with minimal intervention.
I highly recommend this free app to you to try out too. Find it online at https://teamup.com/.