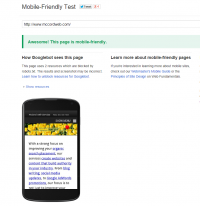 Google continues to push and refine its message as to the importance all websites having a mobile friendly website. Just this past week on the mobile version of Google I started to see tags in front of search listings as to if the site was mobile friendly or not.
Truthfully, I believe the next step is for Google to filter out and not supply sites at all in the mobile search results that have not stepped up to create the proper mobile experience. I expect to see this happen within the next six months.
Google is serious about having a great experience for mobile users on their mobile search platform. If they do not, then users will migrate to other providers who show more relevant results. If they move, Google will lose big in the ad arena. So for Google showing the right mobile friendly results in mobile search directly equates with its own bottom-line. Miscalculate on how Google feels about mobile and you'll be out of their index.
The great things is that Google moves slowly to make big changes like this, letting users know that they feel is important and provides tools to help site owners. Here is just one of the tools that Google has recently released: https://www.google.com/webmasters/tools/mobile-friendly/. It is an online tool to test just how friendly your website is.
Take the tool for a test drive to see just how your website stacks up. For now you have time to fix these problems, but you will not be able to wait forever. If you are using a legacy site, one that is not built with a responsive design and are not using a mobile rendering plugin or application to turn your old website into a mobile friendly one, you've just got to take action within the next six months to get there. We can help you get there. I invite you to review our responsive design options today to start on evaluating your options.