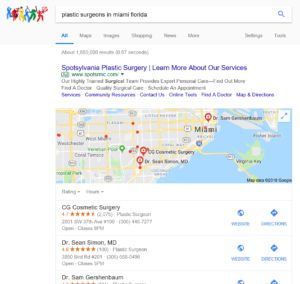 AdWords ads work because they are relevant! It used to be that a person who used Google looked for the organic listings as they were near the top of the page and it was commonly thought that they were more authentic. That is not the case today.
Google in its efforts to sell more ad space has aggressively sought to make ads more relevant to your every day experience. By tracking you relentlessly on mobile and desktop, Google has created a profile about you and serves ads based on your profile. What has happened is that the ads and listings  we now see on searches are immediately relevant based on our searches and historical use.
In addition, AdWords ads work to draw you in with extensions like maps, phone numbers, addresses, deep links into a site, customer reviews, rating stars – all served from the AdWords interface. Google determines when to show these extensions based on your proximity to a business, timing of a search, and your location. AdWords ads work because of Google intrusive anti-privacy approach, but we love the results! And businesses are generating "bank" from AdWords ad exposure.
The screen shot to the right for a search for plastic surgeons in Miami Florida is shown on the top right. You can see from the screen above the fold that there are only paid listings and Google Maps listings and several of those maps listings may actually be paid listings. You have to really want to see the organic listings by scrolling to see the results. This is why AdWords works!
If you are looking for a skilled AdWords account manager, please visit our website to find out more about how we can help you today.