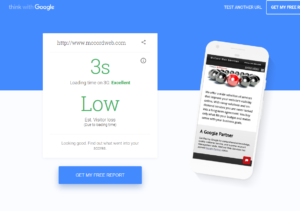 No offense intended, but to not be paying attention to your website load time is simply not smart in the world of Google today.
This is why knowing and working to improve your page speed and site load time is crucial.
Google has a new tool called "Google Test My Site". This online tool will test your URL, compare your site to others, give you a rating, and even give you a free report and recommendations to follow to improve your speed.
Google says that your site will lose one-half of all your visitors while the page is loading. Know that 70% of visitors globally are surfing the web on 3G or slower speeds until 2020. Want more business? Speed up your website!
Test your own site out today now at Google Test My Site. Then touch base with us about purchasing a new fast responsive PHP website. Our own website at www.mccordweb.com clocks at a 3 second load, received and excellent rating, and has low visitor loss.
Find out more about Page Speed and what we've found out on Wednesday.